Mark Martin
NCLBGC Lic. #75383
Approx. Heated Sq. Ft. 5300
7 Bedrooms, 7 Baths,
1 Half Bath
$1,250,000
Includes House & Pool
House Address:
185 Ocean Blvd.,
Southern Shores
House Description
It was not an easy decision for the families to make but tearing down the family beach home that they had grown up coming to for so many years was the only way to get what they wanted in a beach home. The location made the decision easier. Being able to have a new home in the same place everyone grew up made it all worthwhile. This stunning new home has everything the owners wanted and has been a huge hit for the renters this summer. From the amazing ocean views to the outdoor space that has room for everyone to the shades of blue throughout make you want to stay forever. This home has seven suites, media room, elevator, great room, kitchen, dining room and so much more! The exterior has a metal roof, LP siding, Trex decking and Intex porch rails. Let Sandmark build you one just like this beauty!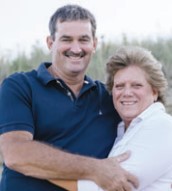 Builder Description
Mark and Sandy Martin have been building award winning custom homes and renovations on the Outer Banks since 1996. Working together with a dedicated group of professionals, Mark spends most of his time on our project homesites and coordinating all phase of construction. Sandy works in the office handling all the client meetings for their home selections, marketing, and accounting. Both are in constant contact with clients, as communication is key throughout the homebuilding process. Currently Mark is serving as the 2020 President of the NC Home Builders Association. When you are ready to build or renovate, make sure you give Sandmark a call!
Construction Acknowledgements
We extend our gratitude to all our vendors and subcontractors, with special recognition to our OBHBA members including: Albemarle and Associates, All Star Insulation, Atlantic Elevators, Atlantic Sewage, Ballard Plumbing, Audio Video Providers, Beach Building Services, Beach House Flooring, BB&T now Trust, Daniels Homeport, Ferguson Enterprises, Guy C. Lee Building Materials, Home Solutions of Carolina, Island Concrete, Island Woodcrafts, J Appleseed Landscapes, Kellogg's Supply, Kitty Hawk Chairs, Michael D. O'Steen PE, Musick Concrete Services, NE Marine Construction, North Beach Services, Outer Banks LP Gas, Outer Banks Roofing, Prime Time Painting, and Sea Breeze Drywall.
Contact Information
191 Wax Myrtle Trail, Southern Shores, NC 27949
Phone: 252-261-1123 Fax: 252-261-5879
Website: www.outerbanksbuilders.com
Email: Mark@outerbanksbuilders.com