Mathew Neal
NCLBGC Lic. #80223
Approx. Heated Sq. Ft. 3501
5 Bedrooms, 4 Baths,
1 Half Bath
$760,000
Includes Remodel Only
House Address:
Southern Shores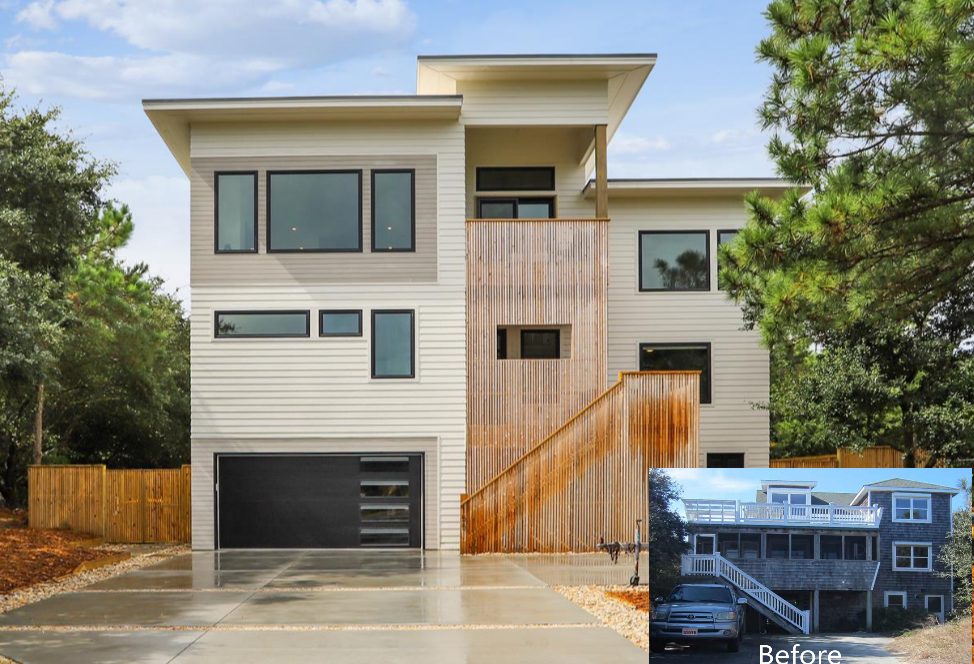 House Description
As "Porpoise Run" crests to the western dunes of Southern Shores and connects to Wax Myrtle Trail, a reimagined house anchors the intersection of these two streets. Originally a cedar shake structure, the new owners climbed atop the old roof and envisioned where their living room couch might sit. A flurry of sketches and multiple drawings later, a multi-tiered contemporary home began to take shape. Our final product stands as sleek, stacked white volumes, tethered by cedar accents outside and within the home. The interior showcases white oak floors and cabinets, concrete tile curated by Modern Beach House, concrete accents furnished by Opus Stone, and custom interior metalwork fashioned by Saltwater Metals. A home crafted by local artisans for a local family that truly knows the science and nature of the Outer Banks.
Builder Description
Rachel and Matt Neal comprise Neal Contracting, continuing a family building heritage on the Outer Banks that extends back to 1979. Matt learned the home building business from the ground up, first working as a subcontractor, followed by starting his own contracting company in 2008. Matt thrives on working with his team of professionals, and is always at home on the job, leading from the field. Rachel Neal provides the core support to the company, managing client communication, finish selections, cost control, vendor relationships, and key design advice. Together, they work as a tight knit team with complementing skills to deliver a finely constructed home that adds value to the landscape of the Outer Banks.
Construction Acknowledgements
We would like to express our pride in our team of subcontractors who give us their best every day. Our team delivered a quality product that we could not build without their knowledge and skill. The homes we build reflect their continued craftsmanship as much as our own… All Star Insulation, Beach House Flooring & Tile, Beacon Architecture & Design PLLC, Ferguson Enterprises, Green Acres Land Development, Home Solutions of Carolina Inc., Jon Boy's Building Service, Kellogg Supply Co., Kitty Hawk Painting, Michael D. O'Steen P.E., Modern Beach House, Noland Company, Opus Stone, Professional Finish, Saltwater Metals, Stephen Michael Perlot Electric Inc, and Wise Flooring.
Contact Information
Matt & Rachel Neal
Phone: 252-564-9780
Email: office@nealcontracting.com
Website: www.nealcontracting.com