Grant Smith
NCLBGC Lic. #78583
Approx. Heated Sq. Ft. 1,790
4 Bedrooms, 4 Baths,
1 Half Bath
$699,000
Includes House, Lot, and Furnishiings
House Address:
315 Wilbur Ct.
Kill Devil Hills
House Name
Pelican Place
House Description
The SimpleSide Construction build at 315 Wilbur Court, Kill Devil Hills is a Florez Design Plan named 'Live Oak' or 'Pamlico'. The coastal cottage has 4 bedrooms and 3.5 bathrooms with covered porches off the front and back of the property. This plan is larger than the typical 'Beach Box' or 'Sprigtail' Design, due to the living area being spread over two levels with the option of an additional ground level. Our build is located in Wright Shores close to shopping, restaurants and the Bay Drive Multi-Use Path, the longest trail on the main beach bordering the Albemarle Sound.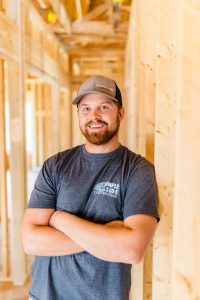 Builder Description
SimpleSide Construction specializes in new home construction and exterior renovations from Currituck mainland and  Corolla to Nags Head and Manteo. Grant Smith, General Contractor and Owner, started Simpleside Construction after leaving his commercial construction career in Norfolk, VA. Grant has a passion for working directly with his clients and making quality construction attainable in our coastal region. Grant graduated with a Degree in Civil Engineering and comes from a long lineage of engineers.
Construction Acknowledgements
The OBHBA member companies include: All Star Insulation, Angel Advanced Technologies, Florez Design Studios, Greg White Plumbing, Guy C Lee Building Materials, L & L Drywall, Manteo Furniture & Appliances, and Moss Painting.
Contact Information
2407 N. Croatan Hwy, Suite B, Kill Devil Hills, NC 27948
Phone: 252-220-2012
Website: www.simplesideobx.com
Email: admin@simplesideobx.com