Builder: Kirk (Skip) Saunders
NCLBGC Lic #80402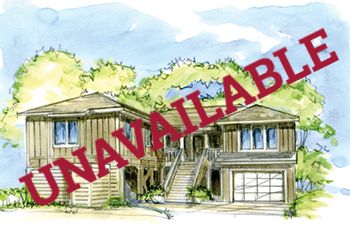 3 Bedroom, 3.5 Baths

$495,000 House Only
House Address: 1401 West 1st Street, Wright Woods, Kill Devil Hills
From home #13, return to First Street, turn left for a short block and just beyond the cross-street Parkwood Drive, the driveway to home #14 is approximately 20 yards on the right. The home is sound front.
This gorgeous transitional home fronts Kitty Hawk Bay and is the culminating vision of an award-winning local home designer and longtime local residents and owners Richard and Donna Greenlee. Interior design is by Nancy Pugh with Donna Greenlee. Marine forest and waterfront surprise views can be seen through the home as well as from the interior spaces. A zoned design converts swiftly from accommodating visits from adult children and their families, to cozy living by only the owners.
We thank and salute all of our hardworking and talented subcontractors and the vendors who go the extra mile. Special acknowledgement to our fellow OBHBA member companies:  A & B Carpet One, Artisan CSC, G. W. Myers Electrical Contractor, Gallop Roofing & Remodeling, Inc., Kellogg Supply Co., Michael D. O'Steen, P.E., Musick Concrete Services, Northeastern Marine Construction, Nancy Pugh and R. Blivens Plumbing, Inc.
Outer Banks Homes is owned and operated by Skip Saunders, a charter member of the Outer Banks Home Builders Association. Skip, still a master carpenter, learned to build on the Outer Banks beginning in 1975 as a carpentry subcontractor. He established Outer Banks Homes in 1987 with a keen focus on the building craft and customer relationships, ensuring your Outer Banks home will always represent a legacy of coastal residential excellence.
Builder Contact Information:
3708 Herbert Perry Road, Kitty Hawk, NC  27949
Phone: 252-202-8418