Mark Martin
NCLBGC Lic. #75383
$475,000
Includes House Only
Remodel
House Address:
126 E Sea Hawk Drive,
Duck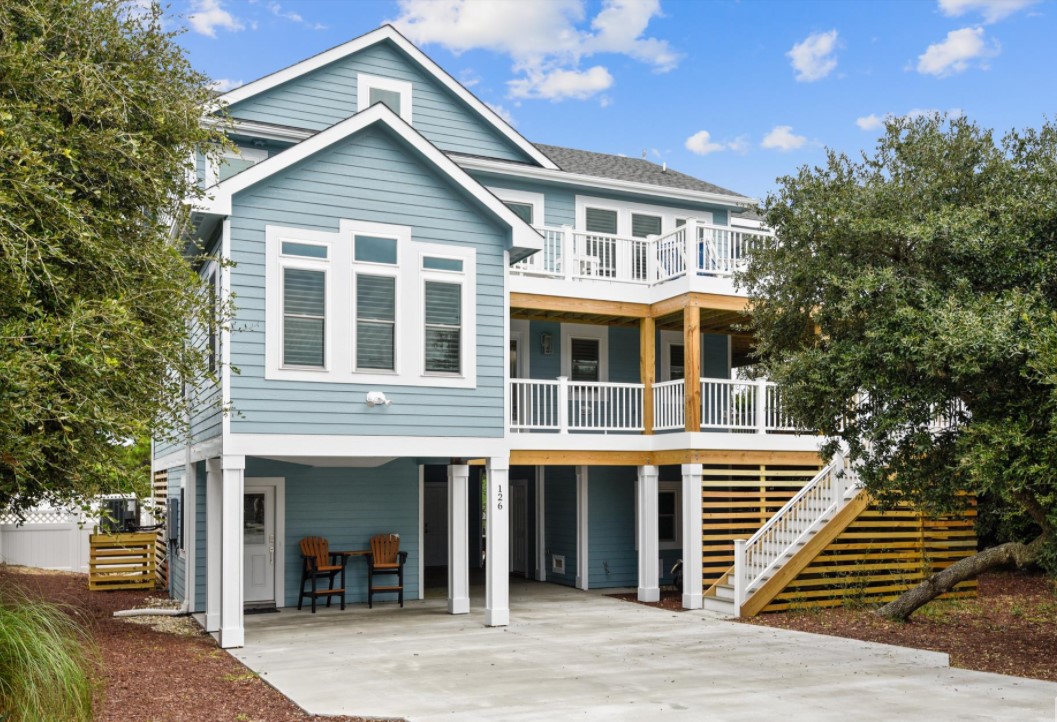 House Description
Beth and Bill Blynt purchased this home 7 years ago with the intention to rent it out for a while until they retired to the Outer Banks. Given its proximity to the beach they saw the potential for this home to be a permanent residence with improvements. This 1985 beach home got a total transformation to become the homeowner's beautiful permanent residence in 2020. The main footprint stayed mostly intact. We removed the roof and removed most of the walls on the top fl oor. The top fl oor bedroom level became the new kitchen, dining, and great room with a bedroom suite. The middle level where the original kitchen and living room were located, became a new luxurious bedroom suite with walk in closet, an additional bedroom and bath, laundry, and foyer. We added an elevator with the new interior stairs from the ground floor to the top level. New windows, doors, siding, roof shingles, and exterior decks with Trex decking and Radiance Rails adorned the exterior of the home. A wonderful renovation to a house that they now call home.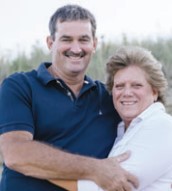 Builder Description
Mark and Sandy Martin have been building award winning custom homes and renovations on the Outer Banks since 1996. Working together with a dedicated group of professionals, Mark spends most of his time on our project homesites and coordinating all phase of construction. Sandy works in the office handling all the client meetings for their home selections, marketing, and accounting. Both are in constant contact with clients, as communication is key throughout the homebuilding process. Currently Mark is serving as the 2020 President of the NC Home Builders Association. When you are ready to build or renovate, make sure you give Sandmark a call!
Construction Acknowledgements
We extend our gratitude to all our vendors and subcontractors, with special recognition to our OBHBA members including: Albemarle & Associates, All Star Insulation, Atlantic Elevators, Atlantic Sewage, Audio Video Providers, Ballard Plumbing, Beach Building Services, Beach House Flooring & Tile, Daniels Homeport, Ferguson Enterprises, FullTilt Blinds & Shutters, Guy C. Lee Building Materials, Home Solutions of Carolina, J Appleseed Landscapes, Kellogg Supply Co., Musick Concrete Services, NE Marine Construction, North Beach Services, Outer Banks Roofing, Prime Time Painting, Sea Breeze Drywall, Sea Swept Design, The Cabinet Doctor and TowneBank Mortgage.
Contact Information
191 Wax Myrtle Trail, Southern Shores, NC 27949
Phone: 252-261-1123 Fax: 252-261-5879
Website: www.outerbanksbuilders.com
Email: Mark@outerbanksbuilders.com