Sandmark Custom Homes, Inc
NCLBGC Lic. #75383
Approx. Heated Sq. Ft. 3162
4 Bedrooms, 4 Baths,
2 Half Bath
$650,000
Includes Remodel Only
House Address:
151 Victoria Ct.
Duck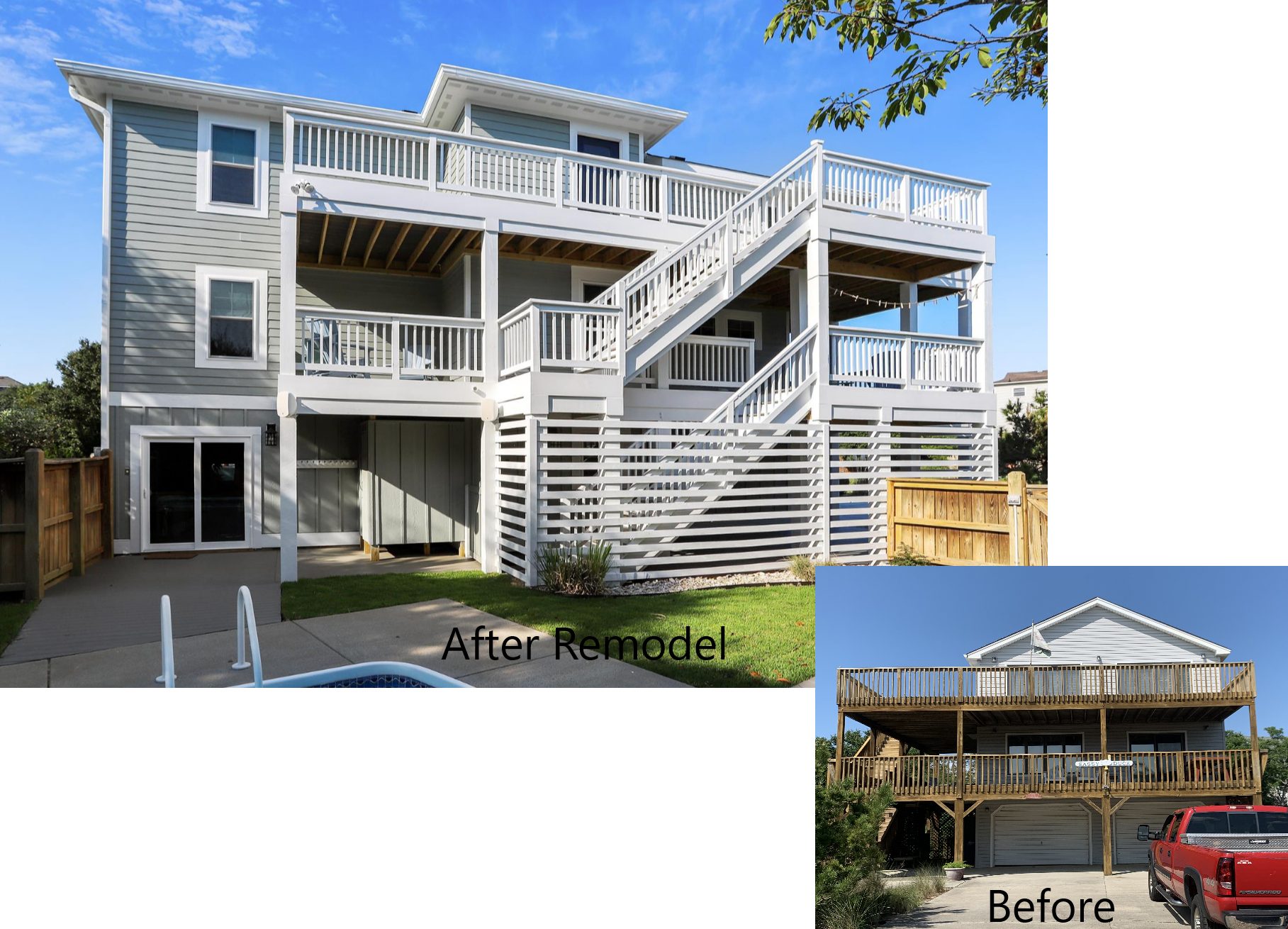 House Description
"Sassy Duck." We met the Lake's when they toured our Southern Shores Parade House in October 2019. We were thrilled when they called us in July 2020 to let us know that they wanted us to remodel their family beach home in Duck. The beach home has been in the family for many years, and it was time for a complete renovation and addition. We removed a large portion of the enormous deck, removed the roof, and took the rest of the house down to the studs. We used the old deck space for a new bedroom, home office, and elevator. We moved the kitchen and dining room to the top level, so they were on the same floor as the living room. The upper living space was enlarged into the deck space allowing for a large gathering space when the entire family is together. The top level is complete with the conversion of 2 bedrooms to one bedroom suite and a new powder room. The middle level features 3 bedrooms, 2 bathrooms, a laundry room, home offi ce and a tv area. The ground level consists of a large recreation room, wet bar, powder room, storage room, elevator entrance and a 2 car garage. Also, all new to this home - windows, siding, roof, decks, driveway, HVAC, plumbing, electric and all new interior features. All ready to create new family memories at their beach home.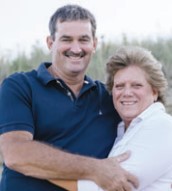 Builder Description
Mark and Sandy Martin have been building award winning custom homes and renovations since 1996. They are both involved in all aspects of the design build process from initial design to the warranty phase and beyond. Mark is finishing up a 6 year commitment with the North Carolina Home Builders Association executive committee where he serves as Immediate Past President.
Sandy currently serves as Chairwoman of the Outer Banks Hospital Development Council.
Construction Acknowledgements
We extend our gratitude to all our vendors and subcontractors, with special recognition to our OBHBA members  including: Albemarle & Associates LTD, All Star Insulation, Atlantic Elevators, Atlantic Sewage Control, AVP-Audio Video Providers,  Ballard Plumbing, Beach House Flooring, Ferguson Enterprises, FullTilt Blinds & Shutters, Guy C. Lee Building Materials, Home Solutions of Carolina, Island Woodcrafts Ltd, Kellogg Supply Co.,  Musick Concrete Services, North Beach Services, Outer Banks Roof Monkeys , Seabreeze Drywall and Sea Swept Designs.
Contact Information
191 Wax Myrtle Trail, Southern Shores, NC 27949
Phone: 252-261-1123 Cell: 252-202-3808 Fax: 252-261-5879
Website: www.OuterBanksBuilders.com
Email: mark@OuterBanksBuilders.com